How House and Pet Sitting Works
I'm sure you have a whole bunch of questions about how house and pet sitting works or about how to choose the right person or service to suit your needs and concerns.
It's crucial to do your due diligence and get all your questions answered – that's when you'll truly feel peace of mind with the option you go with. So here's a list of frequently asked questions that should help you make the decision that's right for you and your pets.
If there's anything you feel you want to know about how house and pet sitting works that isn't covered here – it probably will be in the Agreement terms & conditions I send you prior to booking confirmation.
Feel free to contact me if there's something specific that you'd like to know.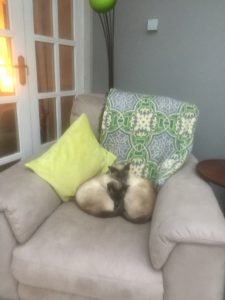 3 OPTIONS FOR A LIVE-IN HOUSE / PET SITTER
When it comes to looking into how house and pet sitting works, you need to know that for a live-in sitter / carer, there are three options. 
Here are some pros and cons, which is why I set up independently.
Professional
OPTION 1 - Professional house & pet sitter
This is where you pay a daily rate for a paid independent sitter to stay in your home and take care of the house, garden and any pets. Some may offer a drop in or dog walking service rather than live in.
PROS - You don't have to place your home details online. You will usually get to know the individual prior to the sit, and know if your pets 'take' to them. Arrangements can be quite flexible compared to agencies, and once you've got a good relationship with the sitter, you feel massively confident to use them repeatedly if your dates match their availability. (Best to book as early as possible) rather than having to go through the whole process again.
CONS - It's cheaper than an agent but expensive compared to a free sitter obviously. There can sometimes be extra charges on top of the daily rates advertised (as with agencies). The person may not be properly background checked. Good individuals will be booked up way in advance so you need to plan ahead.
Free Sitters
OPTION 2 - House sitters exchange site
This is where you pay an annual fee to join and create a home owner profile to attract sitters for your dates or you can browse house sitter profiles to find a match and invite them directly.
PROS - Sitters usually sit for free, you have a good choice and will probably get a few applications on any dates you publish so you can be selective. (You probably have a set of criteria for the type of person, couple of family you want even if it's only in your head.)
CONS - It's not entirely free, usually around £100 a year membership of the site, and you'll probably only use it once a year. Unless the sitter is very local, it's a bit pot luck who you end up with especially as for most sitters aren't local or even live abroad so you're unlikely to meet them in person before they arrive to sit for you. In fact, one huge disadvantage of 'casual' sitters like this is they are looking to experience the location and often off sightseeing rather than at your property caring for your pets during the day.
Agency service
3. House/pet sitting agency
This is where you pay an application fee and the agent finds you a suitable house sitter and makes sure you're covered come what may.
PROS - You don't have to place your home details online and the agent does much of the sifting and sorting for you to find someone who fits your criteria.
CONS - It's really expensive. There's a standard daily rate but then lots of hidden costs, like travel expense and food per day for the sitter (yes really, crazy!). Agency fees are overinflated because they take a 25% cut with only 75% going to the sitter. Unless very local you're unlikely to meet your sitter in person before they arrive to sit for you.
Cancellations with some agencies can be difficult. (For instance, one of my regular clients had first booked with an agent before finding me and deciding to cancel her booking with them. Although she gave 3 months notice, the agency would not refund her 25% deposit.)
(Note: If you don't want a live-in sitter, there are a few options although these don't really suit long term periods away. For dogs, you can use kennels or "in-home" boarding. For cats, you can use a cattery or go with a casual "drop-in" arrangement – friends, family, neighbours or a local person who will come in once or twice a day to see to your animals. Because most people don't really want their beloved pet in a cage most of the day with only a short time to run around free and don't want to put on other people for more than a week or two, live-in pet sitters are becoming more and more popular.)
Our service falls into the Professional category 1 (i.e. we are not an agency and our sitters are not after a free 'holiday' home). Here are a few facts that speak to the pros and cons.
a. Our rates are competitive, comparable to kennels, and all-inclusive, no hidden charges and lots of benefits – see the Services and Fees page for details.
b. There's no sifting or sorting of applicants, with us what you see is what you get – me or someone just like me – and we'll meet up to discuss everything before any reservation is confirmed or payment made.
c. When you use our services, how house and pet sitting works is all clearly laid out in our Client Agreement terms & conditions.
d. We never share client names or details or photos of their house online, pet fun time pics yes – see Gallery page.
e. All sitters are background checked, as this is a necessary as part of our selection process or application for the trusted house sitter exchange site myself and others were on for several years prior to going private.
f. You can check Jay out on LinkedIn and Facebook. She's totally open about who she is and what she's about (with a strong sense of privacy too though) and many of my homeowner clients are now FB friends with her and keep in touch via Whatsapp (no obligation tho!) I think that says a lot!
Here are some specific answers to our most frequently asked questions about how house and pet sitting works at Peace of Mind… click on each box to open up a detailed response.

Click each section below to open up answers to specific question.
What to look for in a pet sitter or dog walker?
Trusting your pet(s) to someone else is a big deal. We get it. I know that when we talk about separation anxiety, it can be yours as well as your dogs!
You want someone that will understand and be open to learning your dogs particular needs, communication and behaviours.
For dogs with severe separation-related disorders who become extremely anxious and distressed when you're not there or when left alone, which leads to disruptive and destructive behaviours in the home, this makes using a house and dog sitter feel impossible.
(The same is true for cats but felines tend not to get quite as distressed as some dogs.)
If this is an issue for you, then I'd recommend you get some professional help from a dog trainer, not just basic training but someone who's expert in dog behaviour and specialises in separation-related disorders. I fully endorse and recommend the separation anxiety dog training provided by my colleague and friend Rosee Riggs. Here's a whole guide on this that Rosee wrote just for our Peace of Mind visitors, and you can also get her free ebook on her website or book a free 30-minute consult.
What kind of services do you provide, Jay?
We provide reliable & friendly long term house sitting for 2 months or more for UK home owners. This can be solely property sitting to ensure your home and premises are secure and not left unoccupied (for insurance purposes) or includes pet sitting for dogs, cats and/or small animals.
Either way, this means a POM sitter stays in your property and takes care of day-to-day upkeep: cleaning, mail, meter readings, water plants, mow the lawn etc and gives your pets the care, love and attention they need until you return. What's included in outlined on the Services page.
Click each section below to open up answers to specific question.
What animals do you care for?
All POM sitters have experience looking after a range of small animals, so your pet is in capable and caring hands.
DOGS – one dog or two small to medium sized dogs, feeding, company/affection, health checks, medications, daily walks, playtime as required
CATS – one or more (not more than 4), company, feeding, play/affection as desired
SMALL ANIMALS – rabbits, chinchillas, hamsters etc, care as instructed
CHICKENS – kept in outside coup, clean outs, collect eggs, health checks
HOUSE BIRDS – parrots, parakeets, budgies etc, to be advised
We do not look after small holdings, horses or farm animals like sheep or goats.
Can I work out a custom plan to suit my needs?
Simply put, YES!
If you go to the Services menu you can see the kinds of things we do whilst house sitting and pet sitting, from basic cleaning and upkeep to dog walking and administering medications. It's important to ensure we're agreed on where your main priorities lie in how your POM sitter uses their time during the stay.
If there are requirements beyond the usual duty of care, and depending on the size and needs of your house and garden, we can discuss and if necessary arrange for additional help, such as a gardener, cleaner or handyman.
What areas in the UK do you cover?
We are a small but growing team, so likely we can manage travel to any part of the United Kingdom where you live. Jay's preference is the Midlands and London suburbs, because this is within reasonable distance for visiting with family and friends and attending occasional work meetings. Location becomes more problematic if we have to drive for hours to get there and back so we aim to assign a sitter who has their base home nearby.
Typically, a POM sitter is a homebody who works from home most of the time, and except for walks, shopping and occasional short trips away, they will be at your home 24/7. With long term sits, you can't 100% ground a sitter. Most cats can be left with an automatic food dispenser (we can bring one that works great with two sections on separate timers and ice packs to keep wet food fresh!) However, it's unfair on dogs if left alone for more than a few hours. If they travel well by car and are ok with new places to visit, they can travel with the sitter most of the time, but not to work meetings obviously! We would never leave a dog unattended in a car, unless you do this yourself whilst popping into a local store or post office for instance. 
If you have someone you usually ask to look after your dog(s) for a day or two, then there location is less of an issue for short stays away.
What happens during the initial consultation?
Well, consultation is posh way of saying a friendly chat. While we offer a fully professional service, I like to keep things on a personable level too – it's important for peace of mind that we click with each other and your pets are comfortable with me and your assigned POM sitter.
The way this goes is usually :
You make an enquiry by phone or form and I call you back for a short chat so we can get to know each other a little and talk through your requirements and any questions. From there, I can give you the fee rate.
If we like the sound of each other and your travel dates fit our sitter availability, I'll send you a formal Client Agreement Form, which serves to gather more detailed information and gives you the full terms and conditions for the home and pet sitting arrangement.
Once you submit this, we can arrange for myself or your assigned POM sitter to visit you and your pets in your home for a meet and greet.
If that goes well and the quoted fee is confirmed, we both sign the agreement and the sit is booked for you (as far as possible we can leave dates flexible depending on how far in advance it is).
A reservation deposit of 50% is then payable to confirm the booking.
How do I make a reservation as you don't have a booking system?
I deliberately do not use a booking system. It's important we talk and meet before deciding on both sides if we are a good fit for what you need, and you feel comfortable and at ease with your assigned sitter if not myself.
You can view our availability online so you're not wasting your time arranging a call, if we can't cover your travel dates. (Note: If we can't do your exact dates, some clients have arranged for a neighbour to look after the pets for a few days before and/or after just so they can book us for the main part of the stay.)
After the home visit, if we go ahead and agree the sit, you will be given a reservation booking confirmation once your deposit (50% of the fees agreed) is paid. The remaining fees are due 4 weeks before you depart. If your booking is within 4 weeks, the full payment will be required. See below for cancellation and refund policy.
How do I go about payment?
You can pay by bank BACS transfer or paypal (linked to a debit or credit card), whichever you prefer. I will give you my details for the payment once the sit is agreed.
What's your cancellation and refund policy?
Cancellations are a real pain, let's be honest. If you need to cancel, it means either (a) something horrid happened and you can't travel or (b) you're feeling uneasy and had a change of heart.
With (a), I'm happy to refund your deposit if you give me 4 weeks notice or if I manage to fill the dates with another client. If it's less than 4 weeks, then I would return half your deposit for compensation and admin costs. It may be you can claim this back as part of your travel insurance claim. Does that seem fair?
For (b), perhaps we can discuss on the phone or have another visit to reassure you on any points and build up more trust. I've heard from so many happy clients in the past whose friends and family said they never heard of house sitting before and start unleashing all their worries on you. But they haven't met me and you have. So I'd say before you cancel let's talk it through.
Is it really safe to allow a "stranger" in my home while I'm away?
I hear this a lot so added it to the FAQs. All I can say is that many of your friends and family members will stare in horror when you mention you're thinking of using a house sitter. But it's increasingly common nowadays! People don't want to leave their home unoccupied for long periods for security and insurance purposes. And they can't usually take their pets away with them but balk at the cost of kennels or catteries (around £10 per day per animal!!!).
Pets nearly always are happier to stay in their home environment too, especially if the house sitter is there 24/7 giving them company and attention. And truth be told, certainly cats love their home more than their owners (sorry!)
In the 'What are my Options for a Live In House/Pet Sitter?' question (right at the top), I explain the pros and cons of the three main options in terms of getting the know, like and trust the person you choose to sit for you.
Should I make a copy of my key for you?
That's up to you if you need to make a copy or have enough spares. Obviously your sitter will need a key for front door, and usually for back door, conservatory doors, internal windows (for ventilation and fire escape), garage and any outhouses.
As we will have met beforehand, if we agree to the sit on the day you can pass a spare key at that time, but if you are leaving early morning usually your sitter can collect a key from you or a neighbour or safe place when they arrive. They will hand back the key when they leave.
Do you need use of a car during your stay?
No, all our sitters have their own car, but it would be preferable to have use of a garage or driveway rather than parked on a street pavement.
Can you arrive the day before as we're departing early?
Yes, we can arrive the day before to suit your travel departure. If you have to leave in the early hours, your sitter can either arrive the afternoon/evening before or you can leave a key in a safe place or with a neighbour. We only charge from the time you leave the house.
As you and your assigned sitter should typically have already met and got to know each other, a few clients have been happy to do leave a key, or equally enjoyed a nice meal and chat beforehand. I appreciate some people feel a little stressed by all the prep and packing, so last thing we want is to cause more hassle or be in the way, but maybe it's good for your pets to spend some time with their sitter while you're still around. It's really entirely up to you, what you feel is best, we won't be offended either way 🙂
What if our dates change before or during the sit?
If you need to change your dates more than 1 day either side, we will do my best to accommodate this in the schedule if at all possible and refund any unused days as per our Peace of Mind cancellation policy (see separate FAQ).

Returning home early
If your return home is significantly and unexpectedly earlier than planned for whatever reason, the sitter will vacate your home as if it were the planned date of departure. However, we cannot refund any unused days in this situation.
Extending your stay
If your return home is delayed, your sitter will stay on as required if at all possible or Jay will come cover. If it's just a day, no charges will apply, just cover fuel as needed. Alternatively, Jay can help with any arrangements with friends, family or neighbours to look after your pets. If you decide to extend your trip and Jay or your sitter is free to stay on, this will require a new reservation and full payment prior to confirmation.
How do you keep in touch with us while we're away?
Your POM sitter will be delighted to send updates and photos/videos of your happy pets to keep you in the picture – literally – but it's entirely up to you how often you'd like a check-in. Obviously we'd want to feel we can contact you if something important comes up, including asking if you wish your sitter to open any mail that looks important. If you wish, they can sort incoming post and send you a snapshot of anything that appears urgent so you can decide what action to take.
If needed, your sitter can keep a detailed diary of events – mail, visits, phone messages, meter readings – whatever you need – as well as any incidental expenses. Any significant outlay that is necessary such as repairs or if pet food supplies run low, we will check with you before purchasing. Your sitter will keep receipts so if such extra costs are mounting up, they'll always discuss with you.
What happens if my pet gets sick?
Here at Peace of Mind, we never take risks with any animals in our care. Usually we will have discussed before the sit any particular quirks or ups and down that you know are typical of your little furball(s). While our sitters wouldn't go rushing off to the vets for every little thing, they have the back up of Dr Jay who is pretty clued up as to when it's necessary to get veterinary advice. If we have concerns regarding your pet's health, we will contact you immediately and take advice first. 
Rest assured, we treat all animals with the love and care that we'd treat one of our own. We will not hesitate in ensuring they get attention from your vet if necessary. The main focus is that your pet never suffers. Usually a call to the vet practice can determine if it's necessary to take him/her to the vet or in extreme cases arrange a call out.
To see a list of the pets I have experience caring for, click here.
What about insurance?
Home and pet insurance should cover most things, but you may want to check that you're covered in the areas you want when using an in-house sitter or stay-at-home pet sitter. We do carry professional indemnity and personal liability insurance, but that won't cover accidental property or home contents damage. Just think of it as what you'd do yourself in your home if you broke or spilled something, if you'd claim.
Notably, we are careful not clumsy and have yet to break a single item, but accidents do happen. Usually it's the pets that knock something off a table or window sill or spill something! We keep out an eagle eye for those scenarios and put things out of harms way.
How do I decide my best option?
Finding a great house and pet sitter is great when all works out – and people come back to us again and again because it's always a great experience. I'm very clear about how house and pet sitting works for our clients, hence all these questions and answers. What's important is that your sitter turns up on the day agreed, do what is promised and you return to happy, healthy pets and a clean, tidy home.
Now I also totally understand that it can be tricky to decide which is your best option – pay someone you don't know, use someone you know or find a free sitter (you won't know them either). For long term sits of a month or more, people won't generally ask friends, family or neighbours, because it's a big responsibility and commitment for them. So there remain three options and it really depends on what's most important to you:
(A) Book Peace of Mind who are a friendly team of reliable sitters who sound great, will really get to know us and cover everything I need.
(B) Go with a larger agency so there's a bigger fall back solution if a sitter has to cancel.
(C) Find someone from a house sitting site because they sit for free.
A big part of the decision is about RELIABILITY. With a professional comes a promise.

Ever been let down by someone? With a professional comes more I've receive countless enquiries from people who have been let down by a confirmed sitter from a housesitting exchange website. Because the individual sits for free, there's simply no obligation, no contract, no promise to deliver a high quality experience.

Obviously if something comes up and someone can't manage it, you have to move fast to find a replacement. Well, I can only say that I have NEVER let any of my booked clients down. When it's a long term sit, even being a bit poorly, you turn up, it's not different to when your sitter is living in their own home. If they had to go into hospital or something, you'd make the same arrangement for the unexpected as you would do if you were home yourself. So we just need to agree those contingencies. (My consulting work is all about scenario planning so I'm pretty thorough on risk management 🙂 
The other part is about COST. With a fee comes more guarantee.

Simply put, you get what you pay for.  In terms of prices, with an agency, there's a middle person involved so what they charge covers their cut and the sitter fees and there may be hidden costs too, such as travel expenses and even a daily food allowance for the sitter. You often don't meet the sitter in advance of their arrival, but you do have a guaranteed minimum service for the price you pay.

With us, our prices are lower than agencies because there are no overheads, yet we still provide a high calibre service. Home owners nearly always remark we do way more than the minimum and they return to a home that's tidier than when they left! Furthermore, our daily rate (24h) is not much more than the cost of putting your pet(s) in kennels or a cattery (especially if you have more than one animal). And your pet has all the benefits of staying happy and relaxed in their own home, with probably more attention because our POM sitters either work from home or are retired, so they're there most of the day and all night, have time for long walks, chilling and playing so they get a wonderful staycation while you're away on vacation.
Of course, a lot of your concerns will go away second time around. If you've had a great experience with someone, you'll know each other and you will want to book them again. But if you can't, you're back to square one wondering who you'll get. With an agency or exchange site, it's often the case you won't get the same person. With Peace of Mind House & Pet Sitting UK, we like to keep in touch even pop over for a quick hello when I'm in the area to stay connected. And if you know your travel dates well ahead, we can get your next sit booked in and fix things up very quickly.
I hope I've covered the main things you want to know or worry about. But if other questions pop up about how house and pet sitting works and what you need to check, you can ask me anything, including about using an agency or housesitting site – I've been on both and know the pros and cons. At the end of the day, it's entirely up to you what suits you and gives you peace of mind.
Personally, I want you to be 100% happy with whatever option you decide so will help however I can. Why? Well, I'm very good at what I do and pretty knowledgeable about house and pet sitting. The more selfish reason is that even if you go with another option first time around, maybe in the future you'll come back to us.
To your peace of mind,
Jay Allyson
Hope this has helped to answer all your house and pet sitting questions. If not, don't hesitate to get in touch and ask me anything.